Community Education and Engagement
Community Education and Engagement
Even as the PUKAR-HSPH-NYU collaboration aspires to produce high-quality research of national and international relevance, we also try to ensure that our work is simultaneously producing concrete benefits for the Kaula Bandar community.  One strategy for producing local benefits is to use our data for advocacy.  PUKAR's collaboration with the MCGM is a good example of this strategy.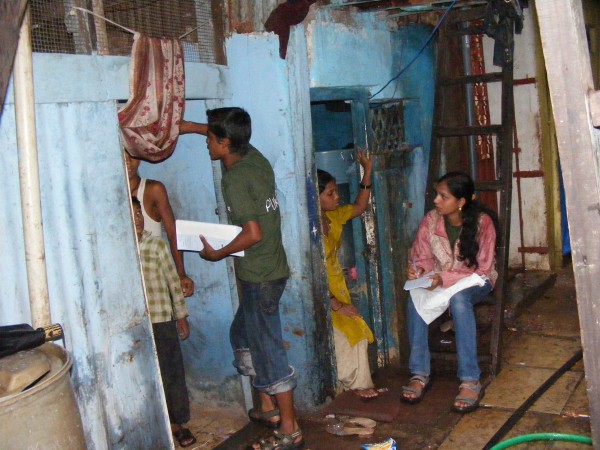 In addition to advocacy, we have also engaged in direct community education that is connected to our research projects.  Most of this education is performed on a door-to-door basis by PUKAR's Barefoot Researchers.  Since many of the Barefoot Researchers hail directly from the community, these educational initiatives have been very well-received by Kaula Bandar residents.  In parallel with the "Economics of Diarrheal Illness" study PUKAR Barefoot Researchers educated Kaula Bandar residents regarding appropriate use of oral rehydration solution (ORS) and regarding the warning signs of severe diarrhea.  Colorful pictorial diagrams were used to communicate these concepts, given low literacy rates among women in Kaula Bandar.
In response to Kaula Bandar's low childhood immunization rates, PUKAR's Barefoot Researchers will soon be engaging in a similar household educational initiative regarding immunizations.  PUKAR designer Ara Johannes has created handouts and posters that communicate key concepts regarding childhood immunizations.  For example, many mothers in Kaula Bandar don't realize that a child has to see a health care providers a minimum of 6 to 7 times in the first year and a half of life to receive all the immunizations recommended by the Government of India.   PUKAR's educational materials communicate the child immunization schedule using an easy-to-understand pictorial format.  PUKAR will also provide mothers with business cards that have the address of the nearest government health post where immunizations are provided for free.